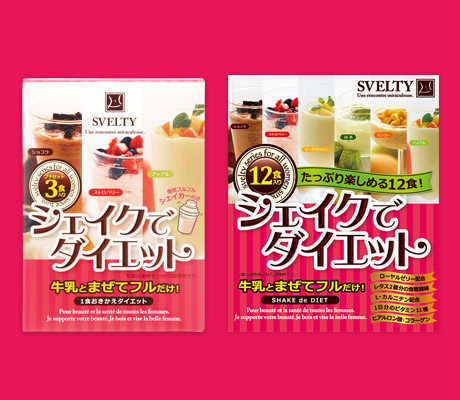 "Replacement Diet" is:
Replacing usual meal with something to reduce total calories, resulting in losing weight.


As you get older, your metabolism will be depressed. (*2)
Daily metabolism in 30's-40's and that in 50's -60's are 40 kcal / 100 kcal lower than that in 20s respectively.
Replacing usual meal with SVELTY Shake de Diet (less than 190 kcal/pack) will support controlling calorie intake.
*1 in case of mixing milk (200 ml: about 140kcal) and a pack of SVELTY Shake de Diet ( about 20 kcal)
*2 The 6th revised edition of Nutritional Requirement of the Japanese, Ministry of Health, Labor and Welfare

It contains well-balanced 11 Vitamins in recommended quantity per day.

It is difficult to take enough amount of dietary fiber through meals, but SVELTY Shake de Diet contains as much dietary fiber as 2 heads of lettuce*.

Includes high-protein and various nutrition such as vitamins, minerals, and amino acids.
※ Reference: Chapter 2, The fifth edition of the Japanese Standard Tables of Food Composition, The Ministry of Education, Culture, Sports, Science and Technology



※The photos are sample images decorated with fresh fruits.

Pour 150-200 ml of Milk into the shaker of SVELTY.

Add a pack of SVELTY Shake de Diet into the Shaker.

Close the lid tightly, and shake it for 30 seconds!

Stir it with a spoon until it becomes thick. Enjoy!